Our Security Solutions
Protect your data, applications, websites, infrastructure on-prem and cloud with solutions from best-of-breed security vendors
Find out which solution below fits your security needs
Today's landscape can change drastically overnight, as threats evolve so quickly and organizations having existing security solutions in place may find the build-up not agile enough to respond to ever increasing and sophisticated attacks.

If the existing solution is using the best-of-suite approach with one major solution provider, the entire organization may be brought down by cyberattacks and business is going to be severely impacted. Hence, it is recommended to take the best-of-breed approach to allow more specialized security solutions to mitigate risks, enable more flexibility and have more vendor independence.

Being your trusted cybersecurity distributor headquartered in Singapore since 2007, Complete Solution Finder partners with best-of-breed security vendors, focusing on offering a unique combination of comprehensive defence-in-depth cybersecurity solutions using the most advanced technology to protect organizations from all threats and vulnerabilities on their critical infrastructure, applications, network, cloud and IOT.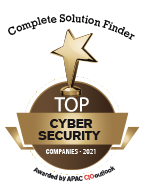 Awarded Top Cyber Security Companies 2021 by APAC CIOoutlook, Complete Solution Finder is backed up by an in-house technical team of experts with diverse in-depth cybersecurity experiences to ensure our partners and customers have the peace of mind.